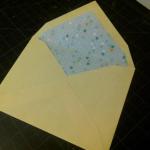 Do you buy your craft supplies online? Be sure to sign up for EBates to save even more!

Hi all! I'm Leslie, the newest addition to The Scrap Room's craft blog. I have been crafting ever since I was a little girl who attempted to make Barbie clothes on her mom's sewing machine; they never quite turned out right, but that could be because I refused to ask for help... I like to think I've improved since then, and I'm so excited to share my projects and ideas with you. 

I welcome your feedback and suggestions, so don't be shy; contact me at 
leslie@The-Scrap-Room.com
 if you'd like to see something on the blog and we'll do our best to show you the ropes. And don't worry if it's not something we've done before – we love learning new crafts just as much as you do!
Search below to find tutorials by Leslie:

Disclaimer: Please note that some of the links in this post are affiliate links. There is no additional cost to you, but The Scrap Room will earn a small commission should you choose to purchase through those links. Thank you for helping support our business!