If you get a bubble, don't worry! You can easily pop it with a needle. Smaller bubbles are harder to get rid of and I found it easier to quickly remove the Diamond Glaze and start over than to try removing the tiny bubbles. The glaze will look convex (domed) if you view it from the side. Allow the Diamond Glaze to dry overnight on a flat surface.

Scrabble Tile Jewelry Pendant

This project is way easier than you might guess by looking at the finished handmade jewelry and is guaranteed to impress your friends! If you're anything like me, you may get carried away making them and have more pendants than you know what to do with... so keep one for yourself! These adorable DIY pendants make for a very affordable party favor or handmade gift, so if you're planning a baby shower or wedding shower, graduation celebration or birthday party -- no matter the occasion, grab a piece of cardstock that matches the event, some old game tiles, and a few other supplies, and make one for everyone!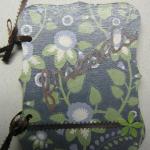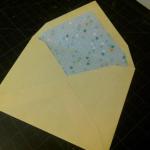 If you enjoyed our tutorial or found value in it, we'd love it if you'd give us a thumbs up or a share on Facebook or Pinterest!

After using the light to align your picture with the tile, carefully place both onto a hard surface with the tile on top, and trace along the sides. Note that my example pictured below was traced onto two-sided paper; unless you also use double-sided paper, your tracing will be on the blank back side of the paper.

Remove the tile and cut along the inside of the lines you've drawn. Your picture should be approximately 3/4 by 11/16 inches. Place it on top of the tile to check the sizing; you may need to trim the edges just a tiny sliver at a time.

Disclaimer: Please note that some of the links in this post are affiliate links. There is no additional cost to you, but The Scrap Room will earn a small commission should you choose to purchase through those links. Thank you for helping support our business!