Stamp Carving

Carving your own stamps is a fun a useful hobby. You can use your one-of-a-kind creations to decorate you scrapbooks, handmade cards and other paper crafts.  If you like the outdoors, you can even combine your stamp carving with that! Check out Letterboxing, a treasure hunting style hobby involving, what else, stamping!

What is Letterboxing?

Letterboxing is an outdoor enthusiast hobby that combines adventure / treasure hunting with crafting and art. Letterboxers seek out hidden boxes that contain (usually hand-carved) stamps and as a reward, get to stamp a copy of the hidden stamp in their own journal, as well as stamp a copy of their own "signature" stamp in the logbook contained in the box to show they were there.  

What do I need to Start Letterboxing?

How hard is it to carve stamps?

What materials do I need to carve stamps?

Do I HAVE to use hand carved stamps?

No, certainly not. But it's a lot more fun! Most letterboxers would rather see your best carving attempt -- no matter how little experience you have, over a store bought stamp. Give it a try! It's easier that it looks! (And this is coming from someone who didn't think they could do it! I finished my first carve in about 30 minutes and was surprisingly pleased with myself. You can find it hidden near Arline Road in South Prairie, Wa in my "Please Take One" box.)
How much of a commitment does Letterboxing take?

As little or as much as you're willing to give. After you visit the boxes planted closest to you, venture out as far as you want, or plant boxes close to you to encourage more letterboxers in your area. 

How much does Letterboxing cost?

Letterboxing is perfect for any budget! Some places you travel may require fees or permits, so look before you go, but there are hundreds of boxes hidden in free locations. Depending where you live, some gas money and basic letterboxing supplies are all you'll need! 

Do I have to hike or walk a long ways to find letterboxes?

No! Although there are a lot of boxes that do require more of an effort to find, there are many letterboxes are just a short stroll. Most clues note an approximate distance. 

What if there are no other letterboxers near me? 

That's okay! You can encourage more boxers to your area by planting new boxes or recruiting new enthusiasts. This can also bring other letterboxers, who have run out of local boxes to find, out of retirement. There are also online communities that engage in postal activities, gatherings and more.

Where do I sign up?

Altasquest.com has a HUGE community of letterboxers. Their website is very well run and has a vast database of letterboxes, community chat rooms and message boards, and other letterboxing resources. Access many of their resources with a free membership, or splurge and sign up for a paid membership for additional features.
Introduction to Stamp Carving & Letterboxing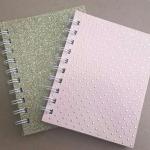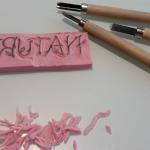 Disclaimer / Waiver of Responsibility:

Thanks for getting outdoors! Your safety is in your own hands, so please don't venture out unprepared! Know your limits and plan ahead -- and don't put yourself in a dangerous situation to find Any letterbox!

The Scrap Room assumes no liability for injury or damage incurred on any letterbox outing. Please be safe out there -- and if you don't know an area, be sure to do a little research before heading out on your journey! 

By reading and utilizing the letterbox clues posted on our website, you acknowledge the above, accept responsibility for your own actions, and agree to not hold The Scrap Room accountable for damage or injury incurred on any letterbox outings.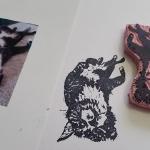 Learn how to go from digital photo or graphic, to hand-carved stamp with this complete, step by step tutorial. Includes a time-lapse of the entire carve!

This tutorial will teach you some of the basics. Learn about some of the tools, materials and transfers used in stamp carving. Several examples included!

Disclaimer: Please note that some of the links in this post are affiliate links. There is no additional cost to you, but The Scrap Room will earn a small commission should you choose to purchase through those links. Thank you for helping support our business!