Movie Night Shadow Box

Whether you prefer to stay in for your movie nights or go out, this shadow box is a perfect off-the-page project for all silver-screen loving scrapbookers!

Supplies and Materials:

-*Shadow Box style "bank" 

-5"x7" matching picture frame

-Roll of tickets

-Computer/Printer (optional)

-Embellishments and paper for the background in the shadow box and to decorate the "instructions" page in the smaller frame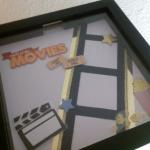 A shadow box such as this could easily be used to save ticket stubs from movies out, however this particular box was made for a wonderful couple who want to share the fun of their home theater with family and friends. This off-the-page approach brings the scrapbooking out of the book and into the theater's decor, displaying memorable movie nights in an organized fashion that is simple to keep up. 

I strongly recommend starting with a "bank" style shadow box that has an existing opening in the top through which to drop tickets. I used a regular shadow box I purchased from my local craft store and cut the hole myself, which was not near as easy as I thought it would be! Definitely safer and faster to start with the bank, but they can be tricky to find -- check online before wasting the gas to drive all around town. If you do cut your own hole, be sure to trim it with a bracket (inside and out) to protect from any sharp edges.

Decorate the background of your box. 
(See Quick Tip #3
4) I used an 8"x8" shadow box, so I decorated an 8"x8" piece of white cardstock as the back ground, with embellishments from Me and My Big Ideas's "Night at the Movies" set as well as a handmade "film strip" using black and gold paper with some gold ribbon.
Next print the "Movie Night Shadow Box Instructions" (above) onto a piece of 5"x7" cardstock, or create your own. If you're using the provided printable be sure to set your printer settings to 5"x7" (I've left the actual file as 8"x10", in case anyone wants to print it larger.)  There is room to add a couple small tickets below the title and a small border near the bottom. I kept it simple with red and gold ribbon that matched the embellishments in the shadow box and two tickets (one flipped over to show the backside).

Add the instructions to the picture frame and display with a roll of tickets (I found mine at Target in the party section!) next to the shadow box.  When guests come over for a movie night, it takes only a few moments to jot down their name, the date and the movie on a ticket and drop it in the box, creating a lasting memento to commemorate the night. 

Of course in order to host a movie night, invitations are helpful! For instructions to make the above set of "Now Showing" cards, 
click here
. And if you're looking for a quick and delicious movie treat, don't miss our 
Candy/Chocolate Drizzled Popcorn recipe
 -- it's always a crowd pleaser!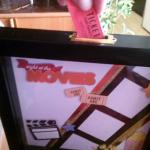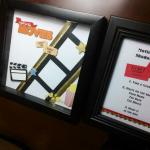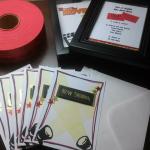 Disclaimer: Please note that some of the links in this post are affiliate links. There is no additional cost to you, but The Scrap Room will earn a small commission should you choose to purchase through those links. Thank you for helping support our business!